Bonjour lovelies!
So technically, I am supposed to be studying for my finals or starting one of my assignments. But knowing very well that when exam week approaches, I won't be able to post again for awhile. So I decided to write this up following a shopping day out with my roommate, who inspired me to make this post:
Essentially, what is in my make-up bag?
What are my favourite, must-live-by make-up that I carry with me at all times?
I should start out by saying that I'm a die-hard
DIOR
fan, so please be aware that most of what I use is going to be from Dior. I know that judging the quality of make-up is incredibly subjective so even if it works heavenly on me, it might not work on you so just be aware of that and
always
always
try it out at the department store before you make a purchase.
Okay, let's get to it:
FOUNDATION: DiorSnow White Reveal UV Shield MakeUp
This is a great foundation! I've always preferred powder foundations for some reason and this just works brilliantly. Finished and flawless application and my favourite part of it? It looks completely natural! There's never a need to worry that after a hard day's work, a thick cakey effect will form. As an added benefit, with the right moisturiser, you will attain the long sought-after dewy effect seen on runway models. It's that amazing. Not to mention, there's UV protection which is always a plus!
HIGHLIGHTER: M.A.C. Mineralize Skinfinish in Soft & Gentle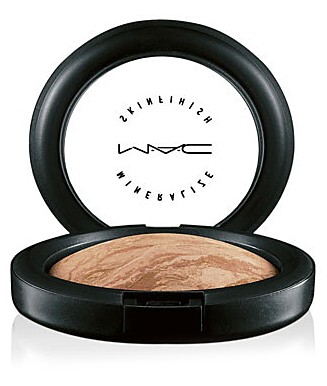 I have only begun to use highlighters very recently so usually, I'll just stick to using it when I have an event at night because frankly, I feel like my face is too "made-up" for a casual-day look when I apply this to accentuate my facial features. In case you're wondering, I usually brush gently over the following on my face: brow bones, nose bridge, apple of your cheeks and forehead. Instant glow!
EYESHADOW: Dior Travel Studio
I actually use this Dior Travel Studio because I travel quite a bit and its just much easier to have one massive compact than a million pots of eyeshadow littered around my make-up bag. Besides, there is a great variety of shadows that's sufficient for casual day looks or sultry night looks. Like I said, I absolutely adore Dior. Their eyeshadows are great, the pigment is rich and it stays on all day without appearing dull or washed-out.
EYELINER: Dior Crayon Eyeliner (Waterproof)
I have actually used this eyeliner for years and its been working so well that I would never consider switching to another one. Yes, yes, I'm incredibly biased but Dior cosmetics really are as wonderful as they seem.
MASCARA: Lancome L'Extreme
My absolute must-have mascara! I recommend this to everyone. In fact, it is so brilliant that my roommate actually rushed out to buy it. I kid you not, I have been searching high and low for mascara that doesn't appear clumpy and unnatural on my lashes and for the longest time (years and years, in fact), I have not found this miracle mascara. It was up to the point that I figured that there may have been something wrong with the way I was applying it or my lashes or something that I actually gave up on my search. Then, my mom gave me this one day after she bought a pack of three when she was travelling. Oh my God, I nearly swooned when I first applied it on my lashes. Flawless finish! I had instant dark, thick lashes WITH NO CLUMPS. -insert gasp-. This is amazing, seriously, I have no words.
CONCEALER: Chanel Correcteur Perfection
WORTH the money. Literally, the best concealer ever. This is my life, especially now, during exam season. A little bit goes a long way and I love how it blends so seamlessly with my foundation. I've used concealers before where the colour stood out so distinctly after a few hours --- an absolute horror. This is definitely on my highly recommended list for a must-have in any make-up bag.
Some of you may notice that I don't have anything for lips and that's because I haven't really found a great lipstick/lip gloss to recommend yet. I am now in the market in search of a great nude lip but alas, nothing has struck my fancy. When I have found something great, I'll be sure to update this once again.
Thanks for viewing and I hope this is some use to you!